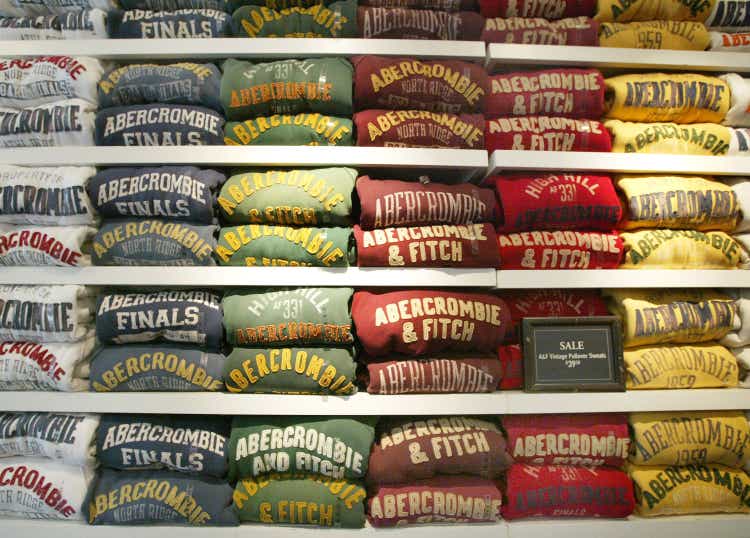 Abercrombie & Fitch Co. (NYSE:ANF) shares fell sharply on Thursday after the company posted a surprise Q2 EPS loss and offered a gloomy full-year forecast.
An adjusted EPS loss of $0.30 in the quarter missed expectations by a whopping $0.53. Meanwhile, a 6.9% decline in revenue to $805.9M marked a larger drop than anticipated, missing expectations by $38.47M.
"As the global macro environment deteriorated in the second quarter, we experienced a divergence in brand performance," CEO Fran Horowitz explained. "Abercrombie delivered its highest Q2 sales since 2015 and its ninth consecutive quarter of average unit retail ("AUR") growth. This was more than offset by Hollister, where we saw a greater than anticipated impact from inflation and a shift away from core categories to more fashion-driven product, contributing to lower-than-expected conversion and basket size."
Moving forward, the apparel retailer anticipates many of the macro headwinds hamperning Q2 results to persist in the coming quarters. As such, management reeled in full year forecasts.
For the full year, the company expects net sales to be down mid-single-digits compared to previous outlook of flat to up 2%. Operating margin is anticipated to fall in the range of 1 to 3%, down from previous outlook of 5 to 6% due to adverse sales and inventory issues. Inventories grew just over 41% from the prior year.
"Our revised outlook reflects the uncertain environment for the back half," Horowitz explained. "As we have successfully done over the last several years, we will continue to navigate near-term challenges and reduce spend where appropriate while executing to our long-term goals."
Shares of the Ohio-based retailer fell 13.04% in premarket trading after posting the disappointing results and downbeat guidance. Read the full details of the release.