Ask any Brit to show their most vivid image of Boris Johnson and chances are it would be the now prime minister, trapped in a zip-wire harness 20 meters above the ground in a full London park, for what a newspaper described as "five, terrible goolie-hugging" minutes.
It was high summer, the Mid-London Olympics and this was just another of Johnson's myriad mayors PR hijackers – shambolic, amateurish, staged – and yet somehow still lovely to many. As the pulley gears of the zipper tightened, groaned and came to a halt, Johnson shouted "help, bring me some rope … my kingdom for a stepladder" but managed to swing the two little Union Jacks into his hands as the media flash images all over the world. The moment would go viral, prompting then-Prime Minister David Cameron to joke that Boris Johnson seemed "defying gravity".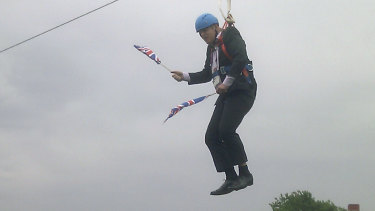 This week, the exact characteristics that define Johnson's Midas suffrage and his political future hang on to a more difficult thread, depending on the findings of an investigation into breaches of lockdown rules and the rumors of the back room of the so-called "1922 commission", the parliamentary monarchs of the Conservative Party.
Cameron has since wryly remarked that Johnson "has always been able to get away with things that ordinary mortals cannot". Described by his former boss, newspaper editor Max Hastings, as a "tasteless joke inflicted on the British people"; caught multiple times lying about multiple cases and secret paternity battles; spread about who paid for luxury wallpapers and renovations in the number ten flat and now, caught up with holding booze parties during lockdown. Sure, the only leaders of a Western democracy who can look like him in the Teflon stakes are Donald Trump and Silvio Berlusconi, who love Italy's bunga bunga.
And yet this latest scandal, the hosting of a party in the garden at number ten on the height of the first wave of COVID-19 in Britain, could simply continue – and should spell an end to his leadership. On any realistic, objective view of politics, a prime minister responsible for emergency laws to protect public health during a pandemic they would then blatantly break out should not survive. It is a healing reminder that Dr Catherine Calderwood, the Chief Medical Officer of Scotland, immediately fell on her own sword after admitting that she had visited her own holiday home on the north coast, with her husband and dog. And that Allegra Stratton, Johnson's press secretary, shed tears after answering rehearsal questions about a party she did not actually attend.
This time it was Johnson's own private secretary who gave an email invitation to 100 (yes one-zero-zero) unrelated guests asking them for BYOB (Bring Your Own Bottle of Booze) to a garden party in the early evening of May 20, 2020 – a night when 500 people died in England alone.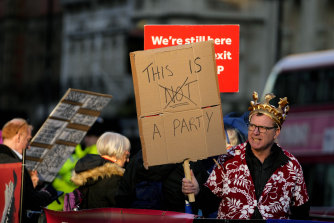 Less than a month earlier, Britain had hit its first contagion peak with more than 1,000 deaths recorded in a 24-hour period. Britain has lost 151,000 of its citizens since the country was placed in the first of several lockdowns on March 23, 2020. There are a few in Britain who do not know anyone – a friend, a family member, a friend of a friend – who died of COVID-19. Worse, many thousands of people are forced to say goodbye to loved ones via FaceTime, phone in hand instead of a human hand.
Despite Johnson's uncharacteristically modest apology in the House of Representatives on Wednesday, the nation's collective, glowing anger has rallied on social media, in pubs and around family tables. Johnson's persona seems to have finally changed in the public mind of what the FadMarina Hyde of Marina Hyde calls an "addled Humpty Dumpty" to a monster that haunts the nation.