The Cyrusher XF690 Maxs e-bike, with its fat tires, is a bit intimidating at first sight. It looks tough and heavy. The 4-inch wide tires are a sight to behold, but they do serve an off-road purpose as well as provide overall stability on any kind of surface. The frame is thick and masculine, but it can fold in half to make it a bit more compact.
Initially, I was hoping the XF690 Maxs would be a mix of power and functionality—a beauty and brains type of situation. After spending plenty of miles with the electric bike, however, it's definitely better suited to spend its time on the trail rather than in the back of a vehicle car traveling.
This is not the e-bike you're looking for if your No. 1 priority is portability and commuting. But if that's secondary to a compelling ride that can tackle any obstacle, the Cyrusher XF690 Maxs is certainly worth considering.
TL;DR
Pros:
Plenty of absorption thanks to shocks and tires
Immediate power, even on lower pedal-assist levels
Cons:
Heavy to carry at 74 pounds with the battery
Nonfolding pedals and handlebar
Buy at Amazon.
What Does the Cyrusher XF690 Maxs Offer?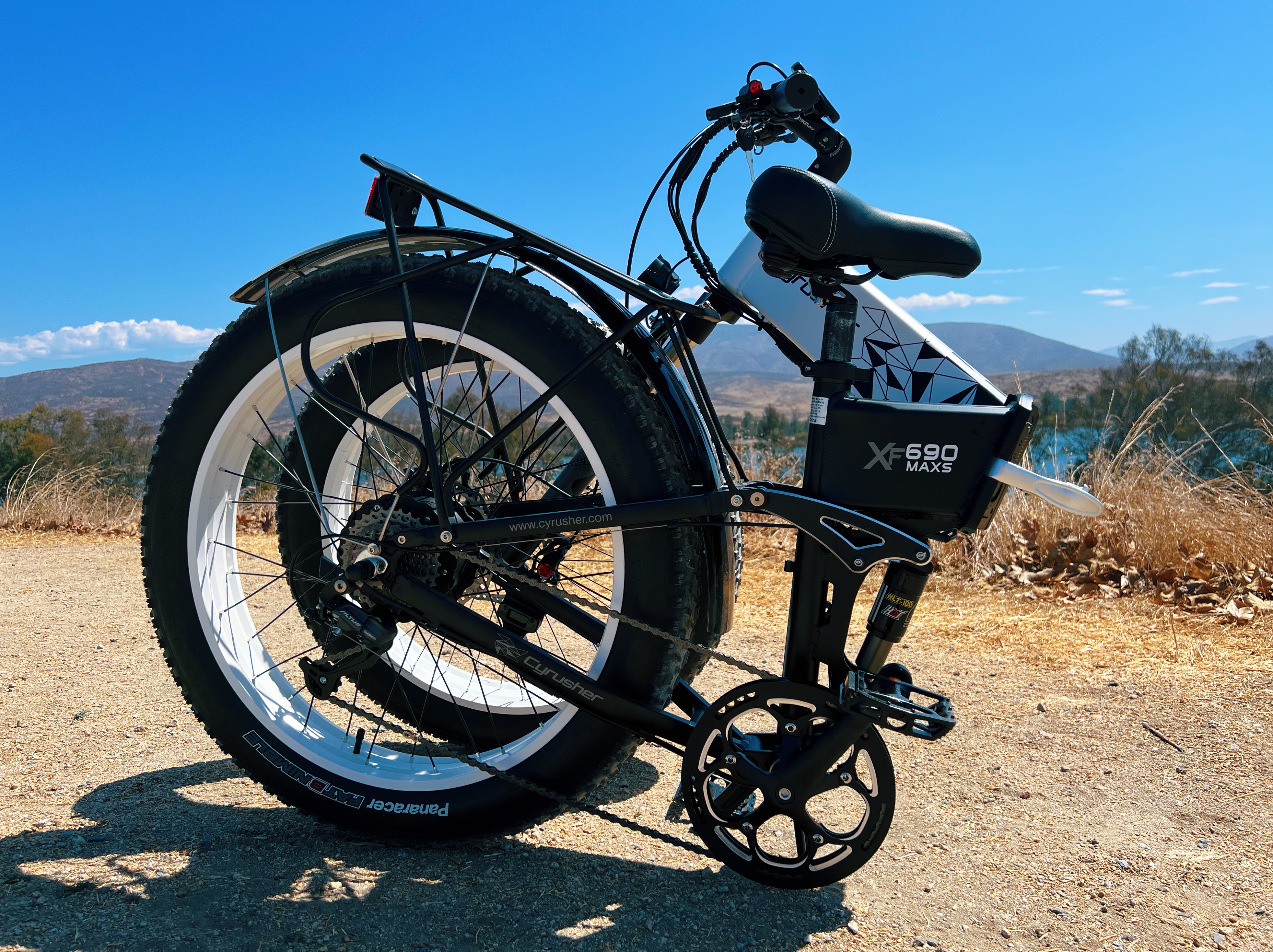 On my first ride, I immediately skipped the bike lane in favor of a sandy, semi-compacted dirt path. I wanted to get a sense of how the wide, beefy tires handled in what I presumed was their natural habitat. The XF690 Maxs rode over the terrain with little difficulty. I had been bracing for slipping around but did not. I did regret not attaching the front fender on the bike, as the tires kicked up tiny gravel, but otherwise, I traveled on the path without incident.
I couldn't test Cyrusher's claim that the Chaoyang mountain fat tires work well in snow, but it also doesn't seem implausible. The tires did provide more stability than thinner ones, even on paved roads. The bike packs in 80 millimeters of travel in its front fork suspension, and there's a rear spring under the seat for extra comfort. The total package made all kinds of terrain feel comfortable. I hit speed bumps at 12 miles per hour without any pain.
Riding the throttle will get you about 30 miles of range from the XF690, but relying more on the lower levels of pedal assistance should get you closer to 55 miles of range from the removable battery. Thankfully, the battery can be charged without being inside the bike if you do live in an upstairs apartment or somewhere without a convenient wall outlet.
The 3.7-inch LCD is basic, but the information displayed, such as time and distance, is readable. Most other e-bikes I have ridden displayed the current speed of travel, whether it's coming from the motor or downhill gravity. The XF690 Maxs only seemed to display the speed that the electric components were providing. So when I wasn't pedaling or pressing the throttle, the display showed 0 miles per hour.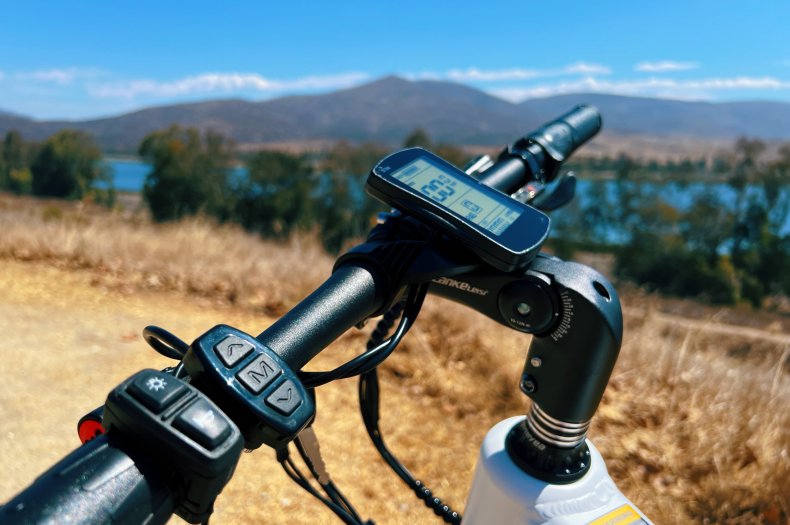 While the LCD may look rudimentary, it can be used to fully customize the bike's settings, including the sleep time, brightness, voltage, start strength and more. The process is a little complicated to get to and requires going through the manual—which I found on the company's website—but is available if you want to mess with the finer details.
Riding the Cyrusher XF690 Maxs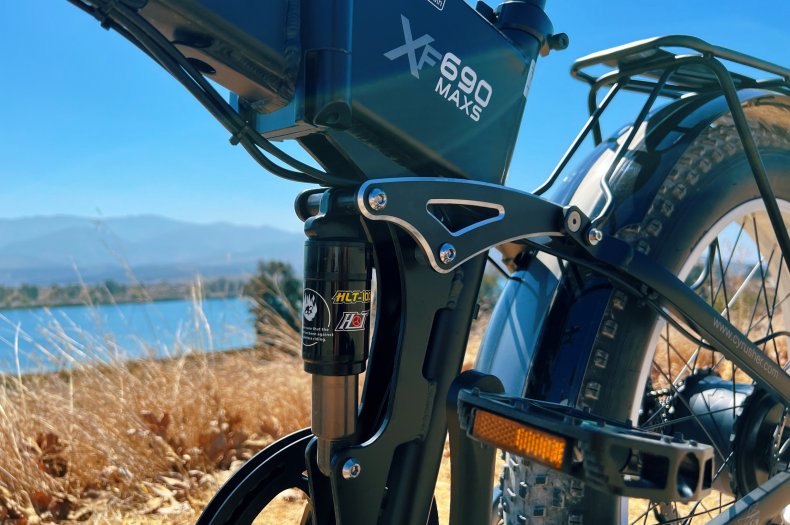 Pushing out of the driveway on pedal assist level 1, I was immediately surprised by the bike's power. It wasn't too jolting, but it was strong and noticeable. Within the first mile, I felt comfortable with the pedal assist and gears.
I was a little disappointed by the thrust of the throttle, but the power from the pedal assist was strong enough to quell those concerns. I'm not a fan of the half-turn twist throttle anyway, so I tended to avoid using it unless I had a situation in which I needed that acceleration from a standstill.
When I headed up moderately elevated hills, I expected the speed to be a little stronger. According to a video on Cyrusher's website, the bike—even with its powerful 1,000-watt motor—does have slightly limited hill climb power compared with its other bikes because it uses a smaller controller to fit the frame of a folding bike.
The bike is heavy at 74 pounds including its battery—or 66 pounds without. There's no way around it. Whether you're riding it or pushing it, there is a heft to the Maxs. The weight didn't hinder the riding portion, but I found it to be a significant factor in storing or transporting the bike. Lifting the bike into the trunk of my midsize SUV was very tough, even folded. The size and weight were certainly a deterrent to transporting it regularly.
Even with the bike folded, I still had to lower all the seats in my vehicle to fit it in. Of course, if the bike didn't bend, I might not be able to fit it in my SUV at all. Still, I found the inclusion of a limited folding mechanism on such a large product perplexing.
Folding the Maxs in half does not make it more compact, but it does necessarily make it easier to move. Neither the pedals nor the handlebar fold, and there is no strap to keep the bike from swinging open. My guess is that folding the XF690 Maxs will allow some people to store it more easily, but that was the only benefit I could determine.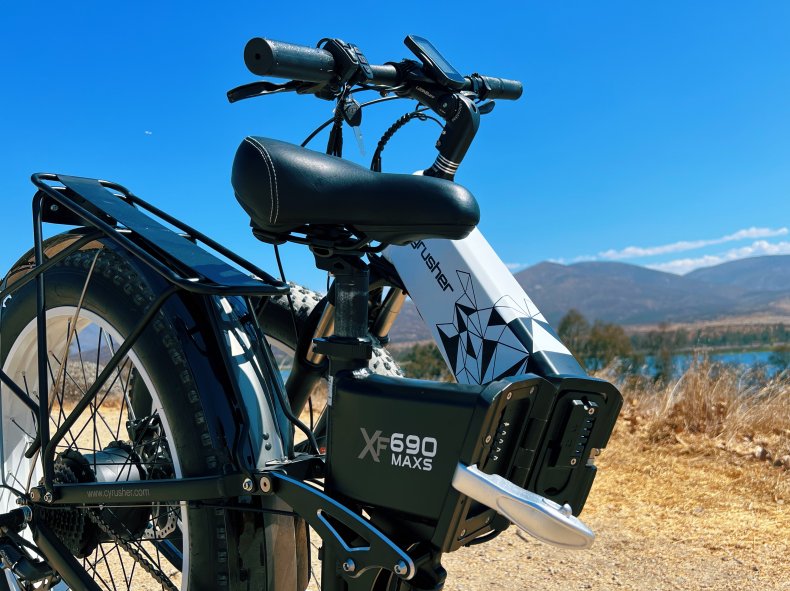 Should You Buy a Cyrusher XF690 Maxs?
The Cyrusher XF690 Maxs feels a little like the Hummer of e-bikes. A tanklike Hummer vehicle could be used in suburban neighborhoods and handle domestic tasks like grocery shopping, but it wasn't designed for that. Similarly, you can use the XF690 Maxs e-bike for any and all kinds of riding, but it's best suited for dirt paths and trails where its fat tires will be appreciated.
The biggest consideration is this bike's size and weight. It will be a challenge for smaller riders. And even if riding isn't a problem, maneuvering it afterward might be. As long as you have the space and stamina to deal with a large bike, there's little reason not to fully consider the XF690 Maxs.
Buy at Amazon for $1,999.
Newsweek may earn a commission from links on this page, but we only recommend products we back. We participate in various affiliate marketing programs, which means we may get paid commissions on editorially chosen products purchased through our links to retailer sites.